Join us for a one-day memoir writing retreat!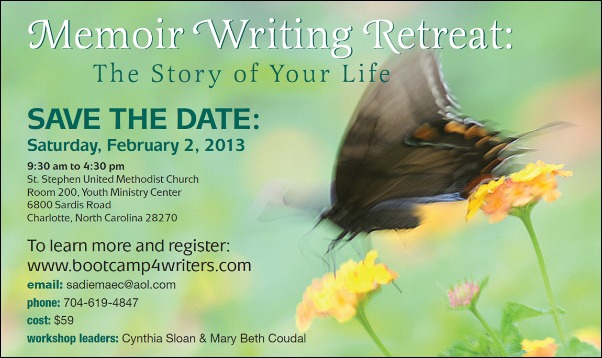 Want to write your memoir?
Give yourself time to write, read, and reflect on your life — the quiet moments and the big events.
Share your writing with a supportive and fun community of writers. This workshop is perfect for the experienced, casual, and reluctant writer.
Join workshop leaders Cynthia Sloan and Mary Beth Coudal for this one-day memoir writing retreat. 
February 2nd Memoir Retreat
Saturday, February 2nd
9:30 am – 4:30 pm
Room 200, Youth Ministry Center, St. Stephen United Methodist Church
6800 Sardis Road, Charlotte NC 28270
Cost: $59.00, payable in advance using the registration form below.
Cancellation Policy
As part of our efforts to maintain small class sizes, we request a commitment to the space reserved for you upon registration. Thus, if you need to cancel or transfer a workshop for any reason, the following refund schedule applies.
Two to four weeks before class start:
100% refund available
One week before class start:
50% refund available
48 hours or less before class start:
No refunds available
If you have any questions or concerns about the policy, please feel free to contact us.