Get in the blogging habit. Gain readers. Write posts.
This is going to be fun!
Want to blog? Choose the right platform? Share your passion?
Share your story?
Sway opinion to your winning point of view?
Let's get started. 
Find your niche

Extend your reach
Engage in witty conversations
"Like" and link more
Use social media to promote your blog
Discuss & learn how to:
comment

moderate comments
develop a theme
tag
guest post
write briefly and deeply
find keywords
use photos
use copyrights
Learn best practices to build your blogging empire in this fun, creative, professional community of bloggers.
Led by Mary Beth Coudal, all levels of bloggers welcome!

When the workshop is over, you'll have written a blog post, commented, been energized to post more frequently, and found a community of bloggers to hold you accountable to your blogging goals. 
When & Where
Thursday, January 9, 2014 from 6:30 – 8:00 pm at new work city in New York City
Previous Students Say . . .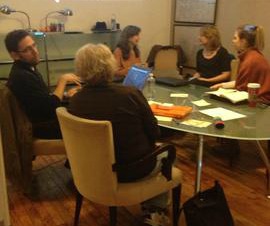 "The Writer's Boot Camp was exactly what I needed: a little bit of structure, a little bit of free form, and a lot of inspiration.
Mary Beth and Kelly did a great job facilitating exercises to help us individually as well as facilitating our class to help each other.
Since the class was relatively small, yet very diverse, we were able to offer a range of informative perspectives. I took away many helpful exercises and goals, which I'm still utilizing and implementing." – Whitney Hunter-Thomson
Registration
We'll meet at new work city in downtown Manhattan.  Registration is $45. Simply sign up using the form below.
Cancellation Policy
As part of our efforts to maintain small class sizes, we request a commitment to the space reserved for you upon registration. Thus, if you need to cancel or transfer a workshop for any reason, the following refund schedule applies.
Two to four weeks before class start:
100% refund available
One week before class start:
50% refund available
48 hours or less before class start:
No refunds available
If you have any questions or concerns about the policy, please feel free to contact us.