Official Bio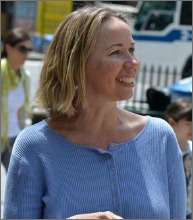 Mary Beth Coudal is an award-winning journalist, blogger, and copywriter. Her essays have appeared in the New York Times, Salon.com, and Self magazine. She's a frequent guest teacher for faith-based groups and for New York City public and private schools.
In NYC? On May 12, 5 pm, Mother's Day, Mary Beth will be performing at Symphony Space in Listen To Your Mother in a forum for local writers to ponder mothers and mothering. (Get tickets early. Last year's show sold out!)
From August 8-12, Mary Beth will be a featured workshop leader at Drew University for the International Women's Writing Guild. 
On Mary Beth's WordPress blog, To Pursue Happiness, she asks the big questions and looks for the big answers in her pursuit of happiness. 
For fun Coudal performs improv comedy and makes short comedy films. 
Client Praise
"I've know Mary Beth Coudal for a few years now, as a friend and as a fellow writer. She is an amazing woman as well as a wonderful writer, and I've learned a lot from her writing in the class we take together.
One of the hardest things to write about are our deepest emotions, and Mary Beth does that with ease. I think she can help any aspiring writer find it within themselves to do so as well."
- Xavier Trevino, author
"Mary Beth Coudal is a great friend, writer, teacher and stand-up comedian. Her class will inspire you, and open you up to new possibilities."
- Dan Wakefield, author of "The Story of Your Life: Writing a Spiritual Autobiography" 
"Mary Beth Coudal is a talented teacher and coach. She has the gift of honing in on what needs work while remaining encouraging. Whatever writing level you're on you'll grow and improve in Mary Beth Coudal's workshops."
- Janet Zinn, LCSW
"Mary Beth Coudal is an awesome writer and teacher. I'd take her class if I wasn't teaching one at the same time."
- Charles Salzberg, author of "Swann's Last Song" and the soon-to-be-released "Swann Dives In."